Facebook and Instagram Dynamic Ads
Engage your prospects with unique ad designs.
Retargeting Biz will help you display the most relevant ads to your target audience and increase your revenue.
Deliver animated ads with up to 25% better performance and a 57% better click-through rate.
Save time and money thanks to automated real-time updates on audience profiling and product catalogue.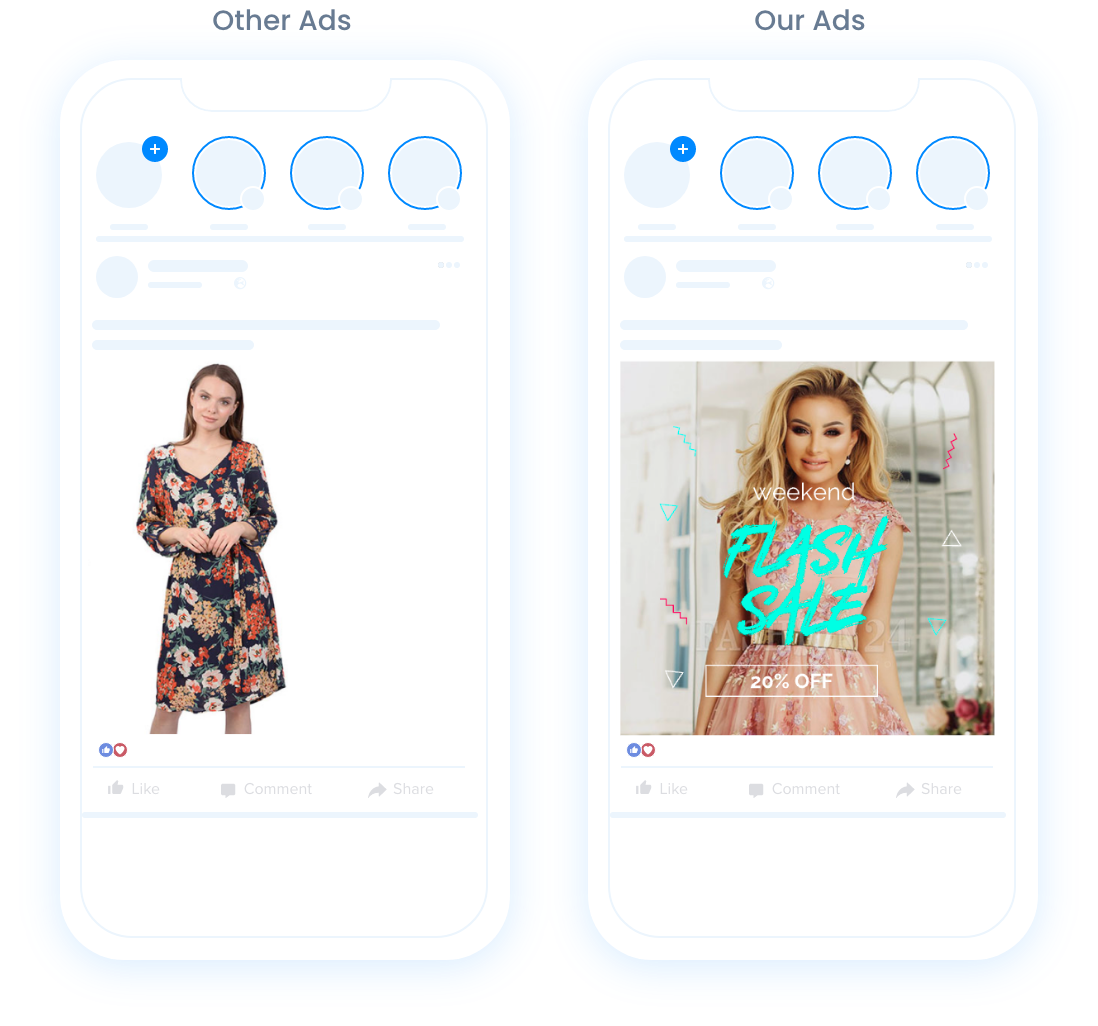 The new creative builder is full of opportunities where ideas become possible.
Hundreds of frames for every major shopping event throughout the year.
Auto-generated content perfectly matching your business.
Playful stickers for an even better engagement with prospects.
Powerful animations which draw users' attention.
Engaging slideshows that display each angle of your products.
Fully customisable product ribbons to showcase product discounts.
Ads that convert more customers, at a fraction of the cost!
Want to retarget your online shop visitors and get noticed by those who are still not aware of your products? Activate Facebook & Instagram Dynamic Ads with a daily budget of just 5 EUR for:
up to 57% better click-through rate
up to 40% lower cost-per-acquisition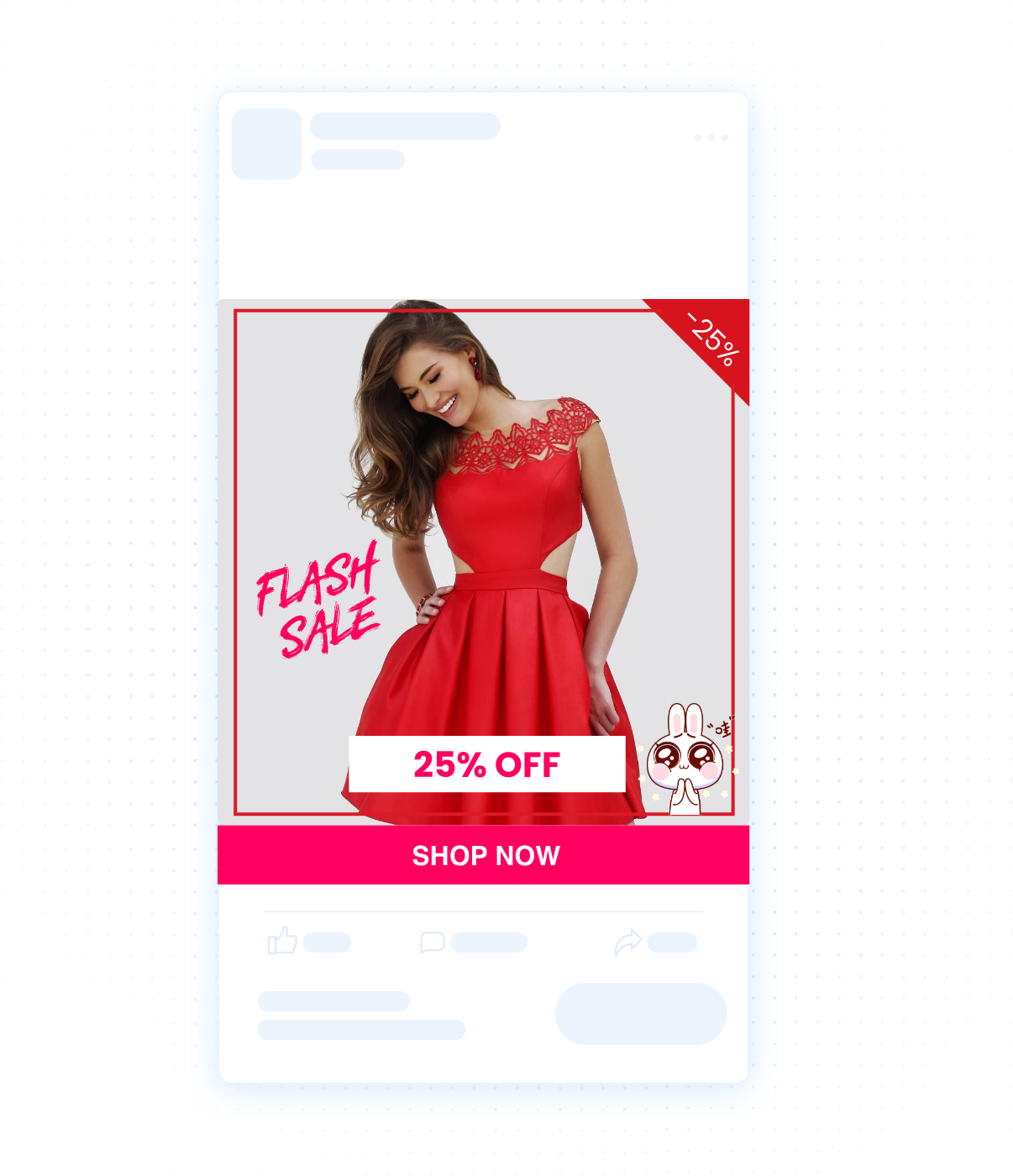 Visitors Remarketing
Cart Abandonment Retargeting
Create personalized ads and let customers see their abandoned products on Facebook and Instagram. Bring money back to your pockets!
Visitors Retargeting
On average, 1% of e-commerce visitors convert; the rest are often lost. Win your store a second chance by letting your previous website visitors have a glance at your products in their Feeds.
Email List Engagement
Keep your customers updated. Make them return to your e-shop through ads featuring products tailored to their preferences in their Facebook / Instagram Feed.
Page Engagement
Retarget users who have recently engaged with your Facebook Page, posts, and ads. Inspire them to take action by showcasing your most popular products.
Cross Sell
Increase the lifetime value of your existing customers! Make them come back for more with recommendations related to the products you already know they enjoy.
Collection Ads
Make it easier for people to explore your products, through a full-screen interactive experience. Go from discovery to purchase in just a couple of clicks. Get more sales without the users even leaving Facebook or Instagram.
New Arrivals
Always keep your customers updated. Retarget them wherever they're browsing their Facebook or Instagram Feeds and give them a sneak peek of your latest arrivals. They might return for more.
New Traffic
Lookalike
Grow your customer base with the help of your existing clients. Since you already know your clients' profile, use this information to your advantage. Find new audiences similar to your existing customers.
Trending Now
Hit the Jackpot by showcasing your best selling products. If they're popular among your clients, chances are they'll hook your prospects too.
Stories
Most users browse through Stories on a daily basis. Make them notice you and win them over with your best products available!
Branding
Grow your Facebook fanbase through engaging ads with effective CTAs. As soon as they interact with your page, ads or posts, remarket them through Page Engagement campaigns.
Single Product
Stand out from the crowd and get more customers for your online shop! Promote the product of your choice in a new catchy format with engaging stickers, frames and animations.
Single Category
Is there a favorite category you'd like to promote? Make it stand out using our new creative builder. Turn ideas into opportunities.
Messenger
Reach them easier. Go beyond Facebook and Instagram and add your brand name to their chat list to generate real, organic conversations.
Custom Campaign
Do you have a special vision for your business? Customize your own campaigns and turn your ideas into reality. Use features that fit your business needs.